The development of Kirkstall Valley Park is starting with Abbey Mills.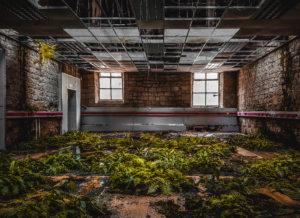 Abbey Mills is a 30,000 sq. ft. Grade II listed mill that lies just south of Grade I listed Kirkstall Abbey and is owned by Leeds City Council.
The Abbey Mills complex consists of a number of mill buildings dating back to the early 16th Century. The mills were rebuilt after a fire in 1797 and by 1847 most of the present buildings were in existence producing corn, oil and woollen cloth.
During early 2017 we successfully raised £40,000 in community shares, and £25,000 from Heritage Lottery and the Architectural Heritage Fund to work up our plans for a community hub and social housing. This culminated in a £200,000 grant from Homes England and Power to Change for a full feasibility study during 2019. Sadly, at the end of all the work, the estimated cost of the scheme – around £11m. – turned out to be just too much to cover by the loans and grants we could raise.
Through 2021 we will continue to work with the Council on marketing the mill with a community hub and hopefully social housing being built into the scheme.