The development of Kirkstall Valley Park is starting with Abbey Mills.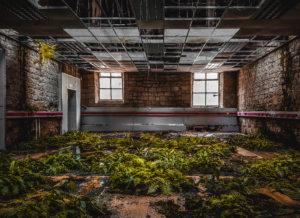 Abbey Mills is a 30,000 sq. ft. Grade II listed mill that lies just south of Grade I listed Kirkstall Abbey and is owned by Leeds City Council.
The Abbey Mills complex consists of a number of mill buildings dating back to the early 16th Century. The mills were rebuilt after a fire in 1797 and by 1847 most of the present buildings were in existence producing corn, oil and woolen cloth.
In this first phase, we want to establish the community facilities, the Leeds Centre for Sustainability (see separate tab) and possibly some flats in Abbey Mills. From now to completion will take at least three years. We hope our main funder will be Heritage Enterprise Lottery and there are three stages to the application.
Initially we are seeking a Lottery Resilience grant to help us undertake an option appraisal on what might be possible on the site. We are already grateful to UnLtd and the Architectural Heritage Fund agreeing to support this start up stage. The real beginning of the Trust's work came in the raising of almost £40,000 in community shares from 155 local supporters earlier in 2017. This money will be used in the development work.
We are currently waiting for the Council to complete its market testing of the Abbey Mills site to gauge what development interest there is. This exercise will either produce:
a) No one. In which case we can start working with the Council on a solution
b) A potential development partner to the Trust that will allow community and education provision to be wrapped into a bigger scheme
c) A commercial developer that doesn't want a community dimension, in which case we may have a battle on our hands
We hope this process will be complete in the Autumn.
In the meantime we have applied to the Peoples Health Trust to support our efforts to build stronger community networks in the valley. In the end, that's what we are all about.
Please sign up to the mailing list to keep informed.