The development of Kirkstall Valley Park is starting with Abbey Mills.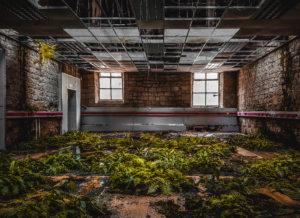 Abbey Mills is a 30,000 sq. ft. Grade II listed mill that lies just south of Grade I listed Kirkstall Abbey and is owned by Leeds City Council.
The Abbey Mills complex consists of a number of mill buildings dating back to the early 16th Century. The mills were rebuilt after a fire in 1797 and by 1847 most of the present buildings were in existence producing corn, oil and woolen cloth.
In this first phase, we want to establish the community facilities, the Leeds Centre for Sustainability (see separate tab) and possibly some flats in Abbey Mills.
During early 2017 we successfully raised £40,000 in community shares to provide development cash for Abbey Mills. Since then we have raised £25,000 from Heritage Lottery and the Architectural Heritage Fund to work up our plans. Our intention is to agree the terms of a lease on the Abbey Road block of Abbey Mills with Leeds City Council in early 2018 (picture below) with the hope of starting to develop community facilities by the end of the year. At the same time we will work with partners to develop the rest of the site for sympathetic uses.
We are currently waiting for the Council to complete its market testing of the Abbey Mills site to gauge what development interest there is (scheduled to finish Dec 17). This exercise will either produce:
a) No one. In which case we can start working with the Council on a solution
b) A potential development partner the Trust can work with
c) A commercial developer that doesn't want a community dimension, in which case we may have a battle on our hands
Please sign up to the mailing list to keep up to date.