The development of Kirkstall Valley Park is starting with Abbey Mills.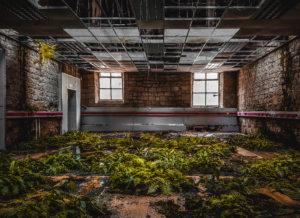 Abbey Mills is a 30,000 sq. ft. Grade II listed mill that lies just south of Grade I listed Kirkstall Abbey and is owned by Leeds City Council.
The Abbey Mills complex consists of a number of mill buildings dating back to the early 16th Century. The mills were rebuilt after a fire in 1797 and by 1847 most of the present buildings were in existence producing corn, oil and woolen cloth.
During early 2017 we successfully raised £40,000 in community shares to provide development cash for Abbey Mills. Since then we raised £25,000 from Heritage Lottery and the Architectural Heritage Fund to work up our plans.
Our intention is to create a community hub and heritage centre alongside social housing. A full business plan exists for the community hub and we are in discussion with the Council about terms of an asset transfer.
Homes England awarded us £177k and Power to Change £44k (June 19), for the preparatory work to create a low car use social housing scheme across the rest of the site. It is important for us that the development is resident led and we have formed a housing group to drive the work. We're particularly keen to involve people who may want to live in Abbey Mills.
The feasibility study was taken to pre-planning stage by March 2020, with no major obstacles standing in our way. The main stumbling block is that the Homes England Community Fund was disbanded at the end of the financial year and we await Homes England budget decisions before being able to progress the scheme.
Please sign up to the mailing list to keep up to date, or else contact our lead on the Housing Steering Group if you want to get involved – [email protected]