The development of Kirkstall Valley Park is starting with Abbey Mills.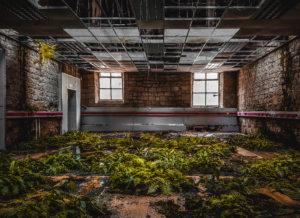 Abbey Mills is a 30,000 sq. ft. Grade II listed mill that lies just south of Grade I listed Kirkstall Abbey and is owned by Leeds City Council.
The Abbey Mills complex consists of a number of mill buildings dating back to the early 16th Century. The mills were rebuilt after a fire in 1797 and by 1847 most of the present buildings were in existence producing corn, oil and woolen cloth.
In this first phase, we want to establish the community facilities, the Future City Centre (see separate tab) and some flats in Abbey Mills. From now to completion will take at least three years. We hope our main funder will be Heritage Enterprise Lottery and there are three stages to the application.
Initially we are seeking a Lottery Resilience grant to undertake development work – site and building surveys, design options, costings, business planning and partnership building. We are also seeking help from organistions like UnLtd and the Architectural Heritage Fund and raising our own funds through a community share issue that will run from February until April 20th 2017
We will be involving the local community along the way and hope by late 2017 to have a convincing plan to put to Leeds City Council that will enable them to transfer the mill to the Trust. In respect to the community facilities, we hope people will tell us what they need and how they will use it. Please put yourself on the mailing list to keep informed