The development of Kirkstall Valley Park is starting with Abbey Mills.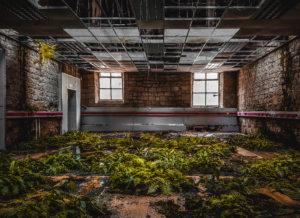 Abbey Mills is a 30,000 sq. ft. Grade II listed mill that lies just south of Grade I listed Kirkstall Abbey and is owned by Leeds City Council.
The Abbey Mills complex consists of a number of mill buildings dating back to the early 16th Century. The mills were rebuilt after a fire in 1797 and by 1847 most of the present buildings were in existence producing corn, oil and woolen cloth.
In this first phase, we want to establish the community facilities, the Leeds Centre for Sustainability (see separate tab) and possibly some flats in Abbey Mills.
During early 2017 we successfully raised £40,000 in community shares to provide development cash for Abbey Mills. Since then we have raised £25,000 from Heritage Lottery and the Architectural Heritage Fund to work up our plans by May 2018.
The Council undertook a marketing exercise of Abbey Mills at the end of 2017. Nine developers expressed an interest. The Trust is interested in all options and potential partners, but is seeking at minimum an asset transfer of the Abbey Rd block and courtyard. Once a brief has been established in discussion with councillors and the Trust, the mill (or part of it) is likely to be put out to tender in mid 2018.
Please sign up to the mailing list to keep up to date.